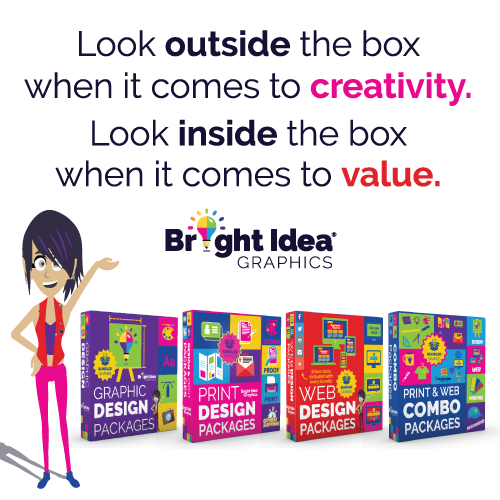 Clever Marketing and Creative design
from analog to digital

Today's generation will never know what it was like to design and produce visual graphics before the digital era. Printing alone was a very complex task on so many levels let alone just the design. The web? That was only something spiders made.
Hello and welcome to Bright Idea Graphics Creative Studio by Bryan Sullivan, founder and Creative Director.
Read More
Over the past twenty years not only was the digital design world born so was the entire business community that goes with it. Today's printing equipment allows us the ability to print complex and stunning graphics on a variety of media and with specialty inks such our new Holographic Inks, foils and raised spot UV.
Another major advancement of the printing industry is our ability to get highly specialized printing such as custom packaging which would cost a fortune 20 years ago for a fraction of that cost today. Custom packaging is no longer only for retailers or other commercial industry giants rather at Bright Idea Graphics you can print small orders. Custom packaging is great for personal use as well, consider adding that extra touch to your Wedding plans, or for start ups with a small inventory or simply to "prototype" a concept. Visit my page on custom packaging and explore all the incredible products offered.
The print media industry has revolutionized, but the story does not end there rather it just begins. Year 2000 ushered in the launch of the new information era with the beginning world wide web. Building a web was not just for spiders anymore.
The internet has provided an entirely new source of opportunity for marketing and design as we are the individuals who keep your website looking great, functioning great and regularly updated.
Today having a website is nothing new. Re-designing your website is probably more of a necessity, making it secure and spam free, also more social, ensuring it is easily found by all search engines.
The web started with three main domain names .COM, .NET and .ORG, which was almost 20 years ago. Today Bright Idea Graphics Web Media Studio specializes in providing not only great web design and development but we also register your perfect domain name, provide you with state of the art secure hosting, personalized email, SSL certificates, search engine optimization (SEO) and more. Visit Bright Idea Graphics and search for your perfect domain today!