Bright Idea Graphics Social Media Branding Packages are tailored for customers who require a new channel or page to be set up plus maintenance packages.
Keeping it Fresh!
Launching your new channel is the small part, keeping it fresh and updated takes a commitment. We offer some affordable solutions to design and update your media channels with our 5, 25, and 52 new media post packages.
5 Media Post Package – Great to launch a Special Event or Product
25 Media Post Package – One a day for a month or twice a month for a year! You choose what works best for we make look awesome!
52 Media Post Package – A new post engagement once a week for a whole year!
Schedule and publish your posts to meet your schedule
All packages include all our  custom design features guaranteeing perfect results every time.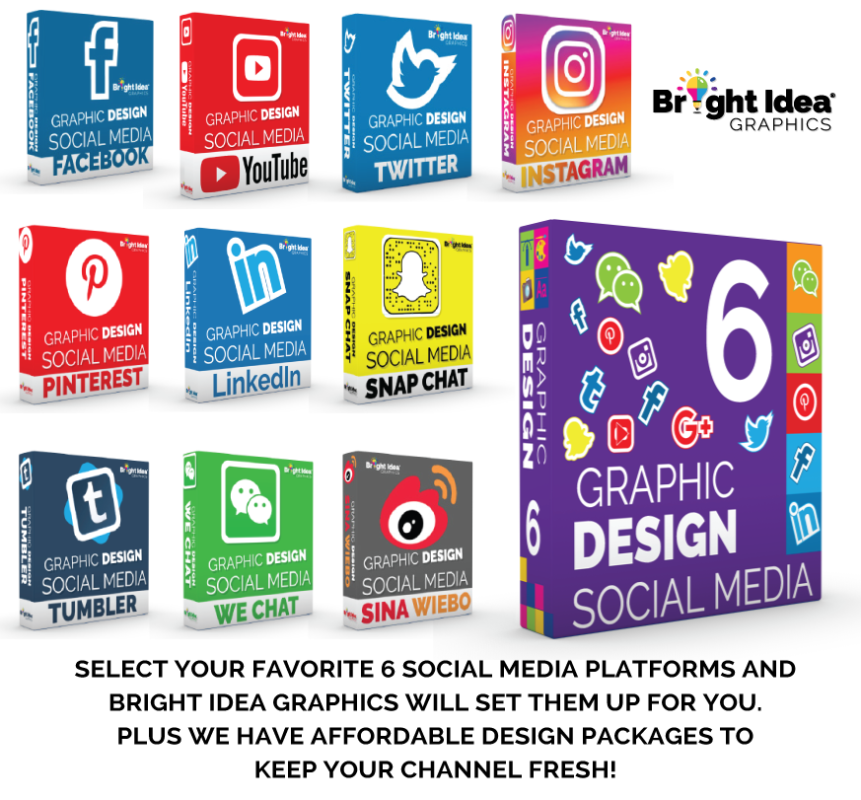 6 Social Media Channel
Harness the full power of your social media marketing. The list of new channels is growing each year, and there are now many to choose from. We feature some of the most popular social networking channels such as facebook, linked for business, pinterest and more.
Bright Idea Graphics can develop any 6 social media channels of you choice and not just the ones you see here. Call or email us and we will be happy to help. 
Social media means providing quality and engaging content that is relevant to your viewers. Creating engaging content takes a lot of work and requires a creative mind to develop engaging posts. 
At Bright Idea Graphics that is what we specialize in. Providing not only great creative concepts but the entire production as well, so you can focus on your business.
Creative Design Workflow
Bright Idea Graphics innovative design solutions will illuminate your brand on the web and in print.
Once we receive your request for information or a quote we will prepare a Scope of Work detailing time frames and media along with and a budget for your review and approval.
Once approved our creative department will create some exciting visual mockups for your review and delivered in a PDF format via email in 3-4 days depending on the task. After 2-3 rounds of revisions, your brand is completed and approved.
If your job is for print then we take an extra step in the proofing to ensure perfection. Unlike the web, once it's printed it too late to make any changes.
Every job is 100% Quality Guaranteed!